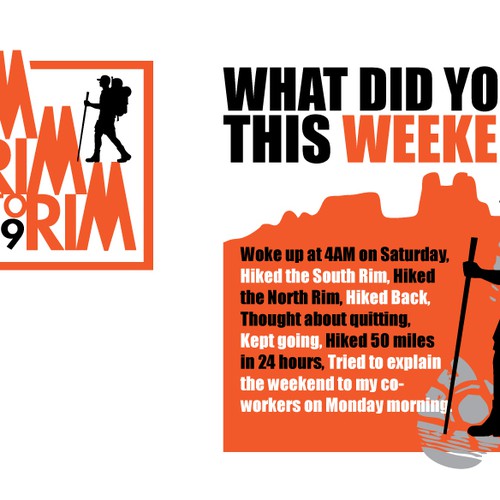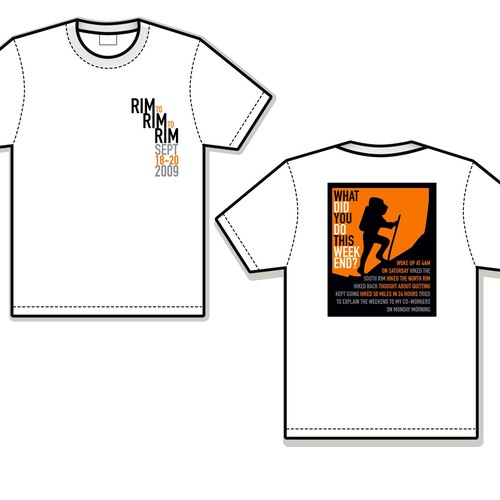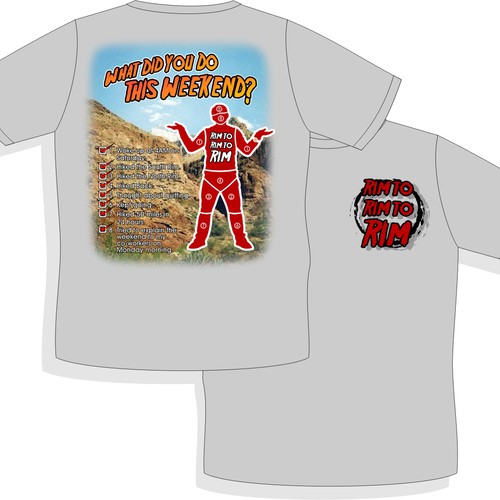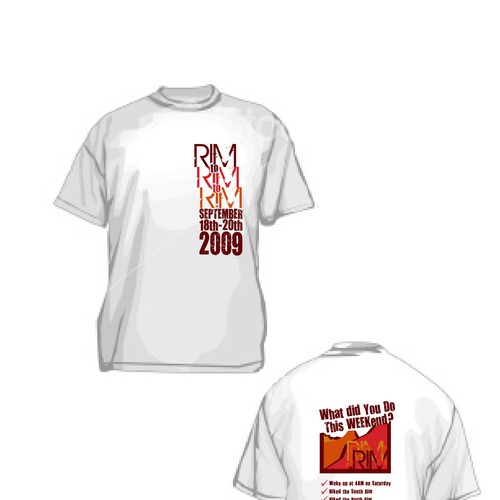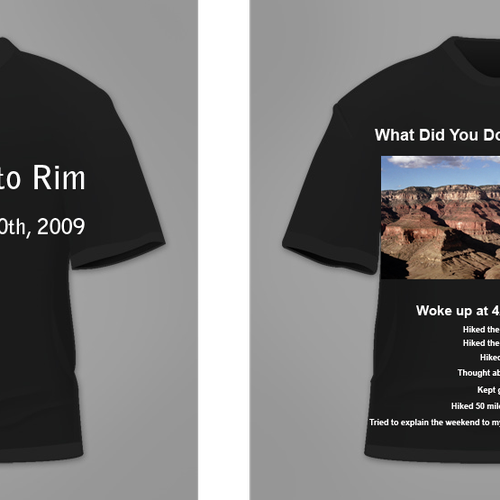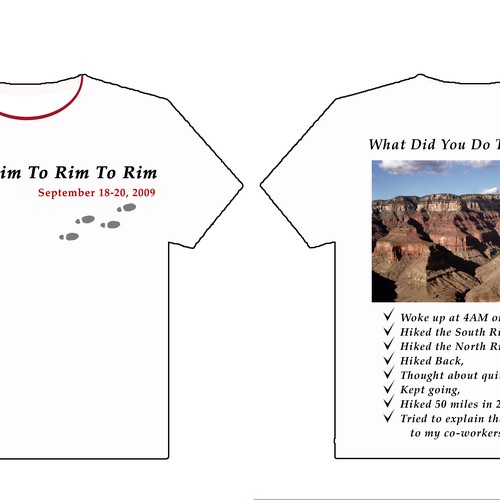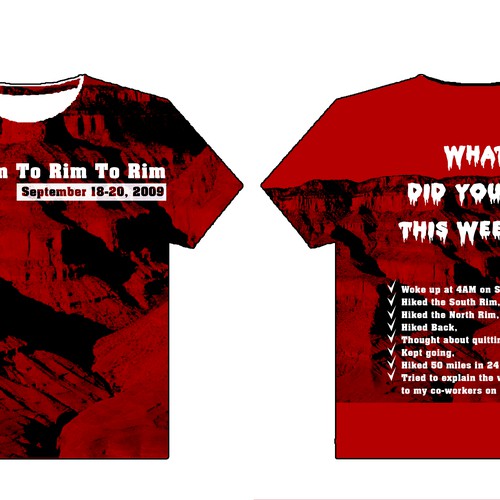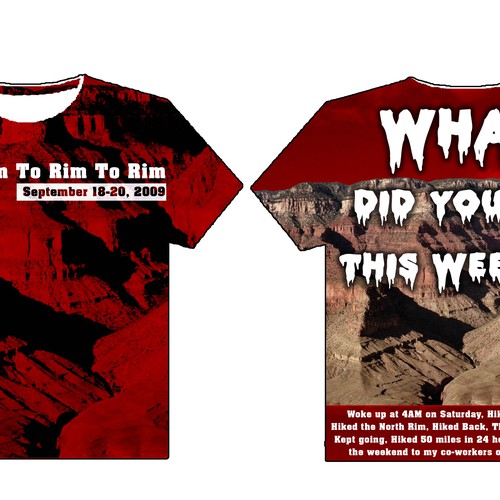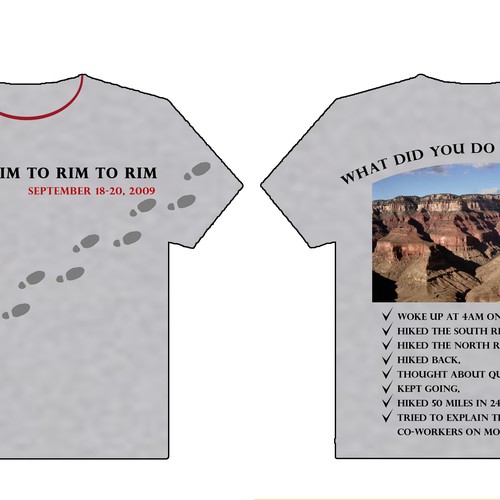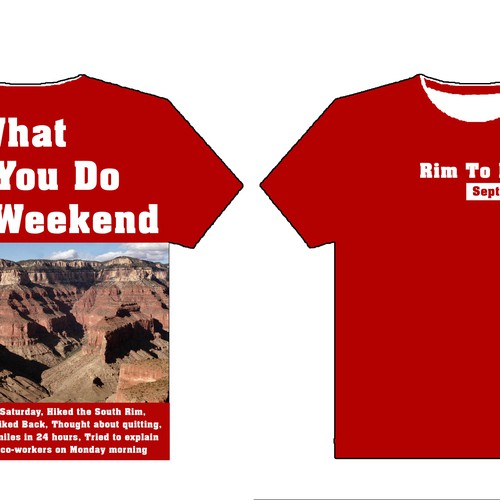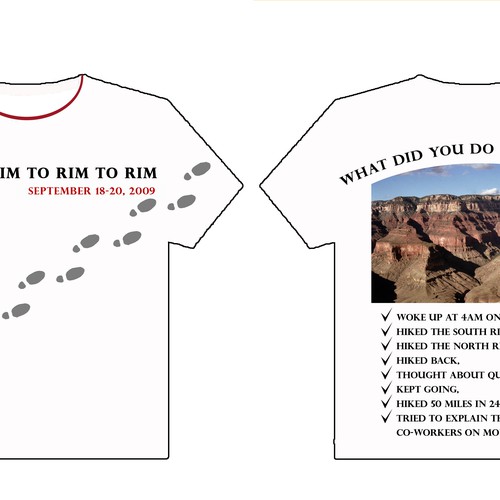 Como iamwhatiam28 começou a jornada do(a) camisa
Nome da empresa
Grand Canyon rim2rim2rim Hike
Visão geral
This t-shirt design is for a group of guys who will be embarking on a journey through Grand Canyon by way of foot. This hike will cover approximately 50 miles, and we will only stop for short water breaks. Most people do not even attempt to hike the Canyon, but those that do typically break it up into a couple of days. The reason we consider our group of athletes a cut above is the fact that we are taking on this geographical monster in a 20-28 hour endurance type hike (please see http://www.gotguts09.com to get a feel for this trip).
Conte para a gente quem é você e quem é seu público alvo
Our group of elite athletes - we are not looking to sell this shirt on a huge level.
Requisitos
- The words "Rim to Rim to Rim" must be included on the front left pocket logo
- along with the date of the excursion - September 18th-20th, 2009
-Graphic design for the front left logo design is up to you
- For the back, we would like a graphic picture of the canyon
- I want the quote "What did you do this weekend?" to be the headline on the back
- Then I would like a checklist style design that includes the following items checked off: Woke up at 4AM on Saturday, Hiked the South Rim, Hiked the North Rim, Hiked Back, Thought about quitting, Kept going, hiked 50 miles in 24 hours, Tried to explain the weekend to my co-workers on Monday morning
Check gotguts09.com for any other creative info you may want to include
Nós encontramos alguns concursos semelhantes que você pode gostar